Luci Baines Johnson, youngest daughter of former President Lyndon B. Johnson, is making what her doctor calls "significant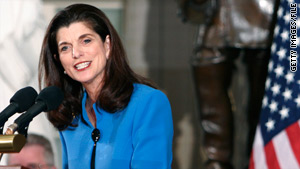 improvement" at the Mayo Clinic.
Johnson, 62, was flown to Rochester by air ambulance Friday and is being treated in the neuro-intensive care unit for what doctors suspect is Guillain-Barre syndrome, a rare autoimmune disorder that can cause paralysis. Dr. Dudley Youman, Johnson's doctor in Austin, accompanied her and said Sunday that Johnson is expected to recover fully. 
Star-Telegram, by AP, 4/18/2010
Additional coverage:
Q&A: Get the facts on Guillain-Barre syndrome
Guillain-Barre syndrome, the disease with which Luci Baines Johnson has been diagnosed, is a condition in which the body's immune systems attack its nerves, often after infection with a respiratory bug or stomach flu. Although acute cases are an emergency, most people recover completely, according to the Mayo Clinic.
USA TODAY, by Liz Szabo, 4/19/2010
CNN, San Francisco Examiner, Atlanta Journal-Constitution, Star Tribune, Washington Examiner, ABC15.com, USA TODAY, Washington Post